Artisan Rollin Karg Makes Impact in the Glass Art and Sculpture World
Rollin Karg, engineer turned photographer, turned potter, turned woodworker, turned glassblower, turned his one-time hobbies into a fulltime career. He attributes his artistic inclination in part to a strong desire to work with his hands, coupled with the inspiring, park like location of the gallery in Kechi, Kansas.

Rollin studied hot glass at Emporia State University, commuting from Wichita while building his first furnace. He originally came to Wichita, KS to attend Wichita University on a football scholarship but soon found his interest not in tradition schooling and left to pursue his glass blowing.

Rollin no longer blows glass but has kept himself active in the art world with his metal sculptures he designs. Many of his sculptures house a piece of his glass work too.

His birthplace was Columbus, Ohio, but raised in Miami, Floridia. It was in Florida that this transplant Kansan was destine for art. That is for another story....

Coming soon "Storytime with Rollin" to hear the rest of the story.
We invite you to visit our 3500 sq. ft Gallery where you will find exceptional metal and glass sculptures by Rollin Karg. Shop our unique collection of glass, mosaics, pottery, jewelry, kaleidoscopes, metal and wood items created by over 100 local and regional artists.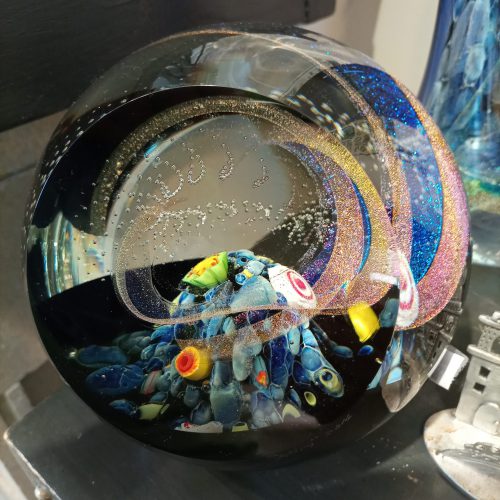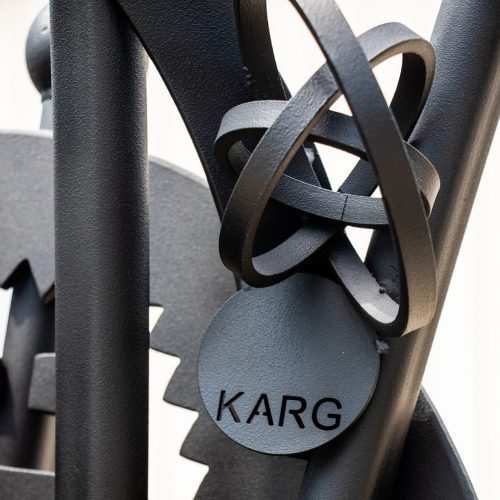 Rollin Karg Dichroic Convex